Serving Pancakes
Since 1953
People all around the globe have enjoyed eating pancakes for centuries. In 1953, Les Highet and Erma Hueneke combined their extensive working knowledge of national and ethnic pancake recipes into a unique menu, thus founding The Original Pancake House in Portland, Oregon.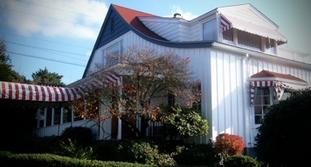 The restaurant has grown to over 100 franchises from coast to coast, winning local and national acclaim. It was voted by James Beard as one of the nation's "Ten Best" breakfast restaurants in the category of "American's Regional Classic Award."
Each distinctive location uses only the finest ingredients, such as 93 score butter, pure whipping cream, the finest plump blueberries, fresh grade AA eggs, hard-wheat unbleached flour, and our own recipe sourdough starter. Signature items include the apple pancake—a single, large pancake smothered with sautéed apples and cinnamon sugar baked to perfection—and the Dutch Baby, an oven-baked German pancake with powdered sugar.
The Original Pancake House was opened in Chesterfield, Missouri. And in May of 2013, we opened our Ladue location. Inspired by the old-fashioned food and atmosphere, this location gives off a warm cabin feel in which guests enjoy their breakfast.
Every day, pancake batters are mixed by hand from scratch, sourdough yeast is grown in our own kitchen from a culture of potatoes, flour, and sugar, and our coffee is blended specifically for our restaurant. We welcome you to return often!